XRSOLAR 160w Semi Flexible solar panel 
Super thin, semi-flexible and light weight
Can be attached to canopies, hard-shell and caravan roofs with its wide range of DIY mounting applications
ETFE construction offers improved mechanical strength and higher resistance to temperature, chemicals, corrosion & UV
Capable of producing up to 8.85A per hour in full sunlight!
Update Shingled Technology
Description
Low profile, durable and efficient XRSOLAR 160w Semi-flexible solar panels can output up to 8.85A and are the perfect choice for a permanent 12V set up on your vehicle!
Designed so they can be easily fixed to your canopy, roof rack, trailer, caravan, or even boat, these panels offer enough flex to be mounted on curves or uneven surfaces.
They're constructed with tough and durable ETFE (Ethylene TetraFluoroEthylene) which is renowned for its high corrosion resistance, excellent UV, and heat resistance so it's designed to not deteriorate over time compared to other commonly used flexible solar materials.
Perfect for 4WDers and campers who use their rain, hail, or shine or even salt-spray, beating sun and snow with an operating range of -40℃ to +85℃ and IP67 dust and waterproof rating.
Easy to join up, with pre-connected MC4 plugs you can simply extend out the wiring and connect to your Solar regulator, most other DC to DC chargers to instantly start your battery charging.
Whether you want to keep your battery topped up while you're around town, or leave the fridge running 24/7 while you're at camp for long periods, adding  an XRSOLAR Semi-flexible solar panel can make it happen!
Extreme or uneven curves can damage the panels, so be sure to support the panel during installation and when fitting into place Do not bend the panel more than 30°.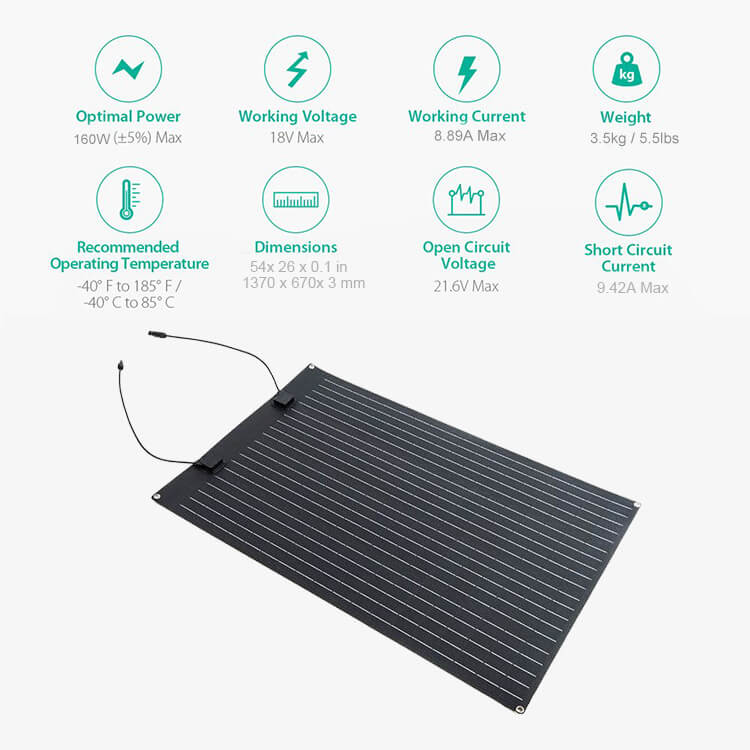 Semi flexible solar panel layout: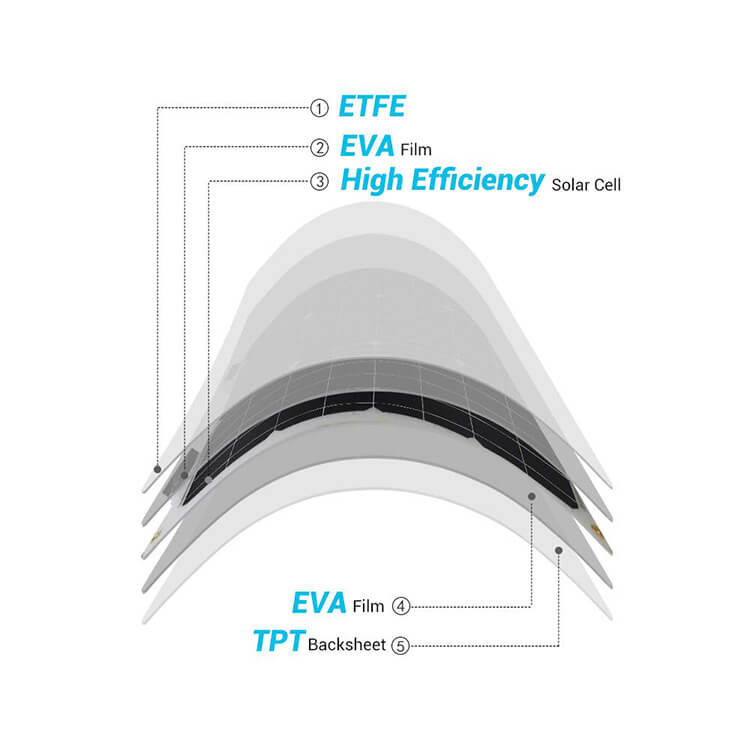 Specifications
– 21.0%  High efficiency mono solar cell to make semi flexible solar panel.
– Water proof PVC fabric and PET laminated solar panel for outdoor use, total light weight
– Film: PET or ETFE
– Cable: 4.0mm2  PV cable 150mm(+) positive cable, 450mm( -) negative cable
– Connectors: MC4
– Package: 2pcs/carton
– Samples could arrange delivery in 3 days
– Operating Temperature: -40~80℃
– Standard Test Condition: Irrandiance 1000w/㎡  Module temperature 25 ℃, AM=1.5
– Warranty: 12 months, Power not less than 90% in 5 years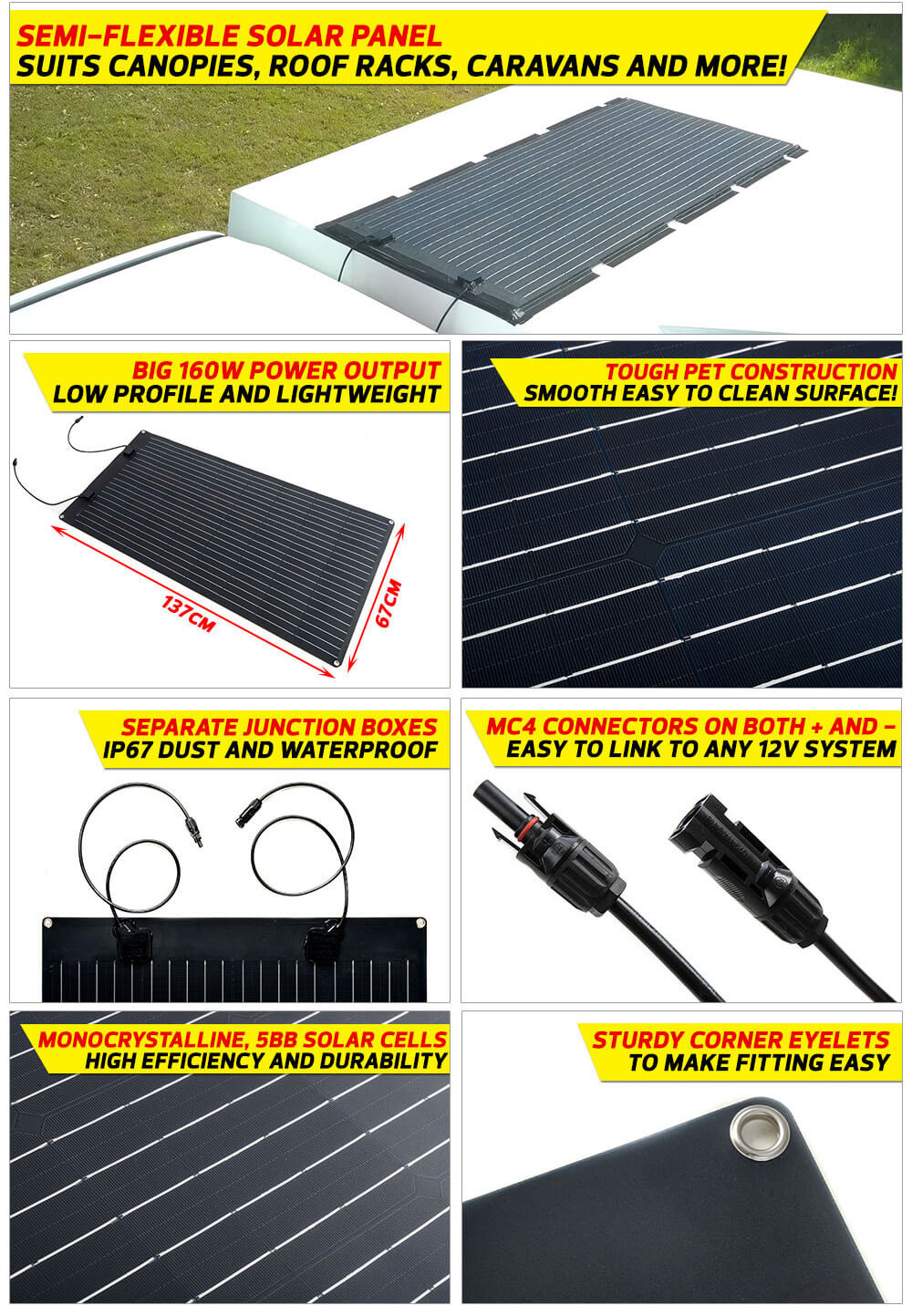 Warranty
Manufacturer Warranty:    12 months
Application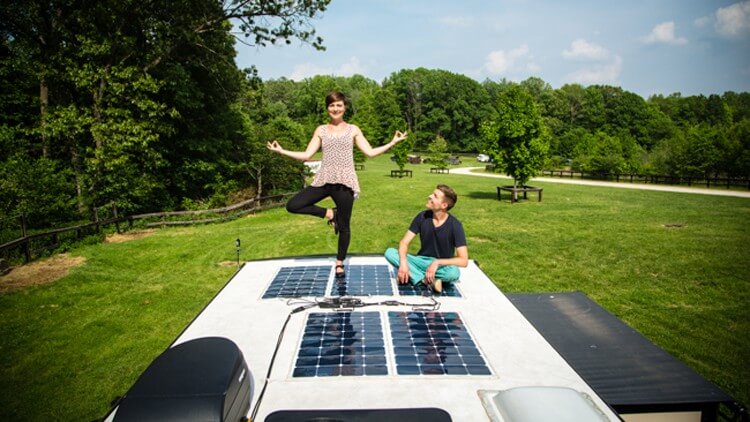 Ultralight Semi flexible ETFE Solar panel  use forcanopy, roof rack, trailer, caravan or  boat etc.