XRSOLAR Customized small solar panel for light
SUFFICIENT ENERGY—- High conversion rate, high efficiency output, excellent weak light effect.
HIGH QUALITY—- High quality epoxy resin, unique technology to make the components beautiful and strong, anti-wind and snow, increase the service life of solar panels.
DIY YOUR OWN SMART MODEL—- Build your own powered models, solar toys, solar lights, solar displays, charging small DC batteries. It can be used for teaching purpose. Many of our customers come from school, colleague, etc.
EDUCATION—- Solar panels are devices that absorb sunlight and convert solar radiation directly or indirectly into electricity through photoelectric or photochemical effects, it's perfect devices for science project.
Description
Ideal mini power cells for science projects and other electronic applications, the customized small solar panel makes them suitable for a wide range of projects including creating solar walkways, lamp repairs, solar LED displays, or to work a motor in self powered models and portable toys.
The customized small solar panel can also be used to build a portable charger for small DC batteries – ideal for use when you're camping, hunting or away from home!Designed exclusively for ease of use at home, school, lab, or workshop, this panel is perfect for your solar projects. At 2W, you can charge AA batteries, drive white LED,or your portable radio.
You can buy extra color coded wires with alligator clips and solder it to solar panel, this make working with it easy and fun. For those of you who want to connect more than one panel together, this panel has two soldered tabs for permanent connections.
By cutting solar cell into halves, the internal power loss will be lower and hot spot effect will also be reduced.

CONNECT SOLAR PANELS IN PARALLEL OR IN SERIES:
You can remove the USB connector from the panel and soldered on alligator clips. When the voltage of your solar panel doesn't satisfy your storage battery, you can take two or more same solar panels together in series. Such as, two pieces of 6v solar panel connect together in series, so its voltage is 12V. When the voltage of solar panel satisfies your storage battery. In order to speed up the rate of charge, you can take two or more same solar panels together parallel connection.
| | |
| --- | --- |
| Storage Battery | Solar Panel |
| 1.2V | 2.0V ~ 2.5V |
| 2.4V | 3.5V ~ 4.0V |
| 3.6V | 5.0V ~ 6.0V |
| 6.0V | 7.5V ~ 9.0V |
| 12.0V | 15.0V ~18.0V |
Specifications
| | |
| --- | --- |
| Model Number | XRP-9595-6v1w |
| Maximum power(Wmp) | 1W |
| Maximum power voltage(Vmp) | 6V |
| Maximum power current(Imp) | 167mA |
| Open circuit voltage(Voc) | 7.2V |
| Short circuit current(Isc) | 176mA |
| Cells types & Size | Poly solar cell |
| Size of module(mm) | 95*95*2.5mm |
| Cells No. | 12 |
| Backing material | PCB FR-4 1.0MM |
| NOCT-Nominal operating cell temperature | 47±2°C |
| Maximum system voltage(VDC) | 1000 |
| Cell Efficiency(%) | >19% |
| Max. Series Fuse Rating (A) | 10 |
| Temperature Range | -40°C+85°C |
| Tolerance Wattage | ±5% |
| Surface Maximum load Capacity | 30m/s(200kg/sq.m) |
| Output tolerance(%) | ±3% |
| Panel encapsulation type | epoxy resin |
| Standard Test Conditions (STC) | STC=1000W/M2 irradiance,  25°C module temperature, AM1.5 |
| Lifespan | 6 month- 12 month |
| Time of delivery | 15-30days |
| Net Weight | 10g |
| Certification / Standards | CE, RoHS |
Warranty
Manufacturer Warranty:  6-12months  product warranty of customized epoxy solar panel.
Related products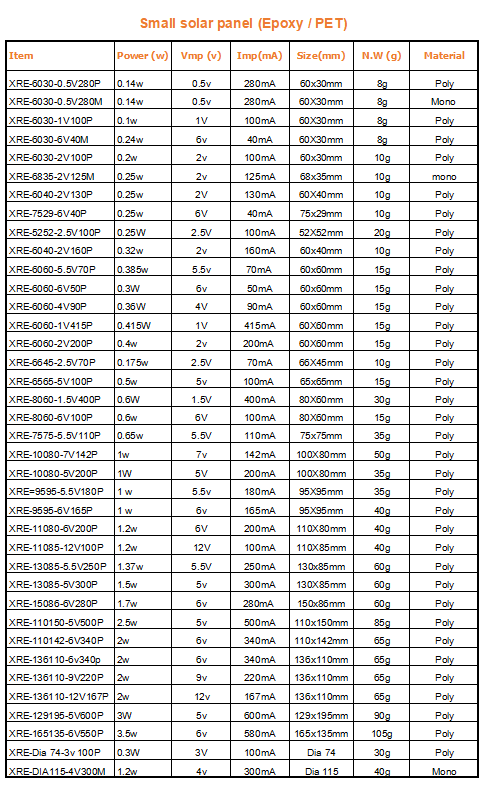 Video